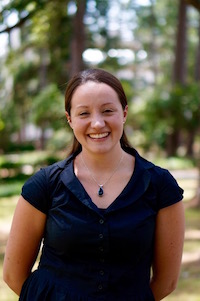 Hannah Byrd - Senior Coach
Education Earned a Bachelor of Science in Psychology (PBA, 2008) and a Master of Arts in Counseling (CCU, 2014)
Time with Coaching Center: Three years
Professional Achievements: Co-recipient of the Division of Student Affairs Partners with a Purpose Award (2015); presented at Coaching's 2015 Student Conference; Co-Chaired Coaching's 2016 Student Conference; Chaired the 2015-2016 Coach Connection Committee; Presented at NACADA's 2017 Region 4 and National Conferences
Favorite quote: "All you need is love."
Favorite place in Tallahassee: Maclay Gardens State Park
Favorite aspect of coaching: Sharing moments of realization with people that help us live even better lives.
Advice to Students: Try to find balance in your life so that you can be well in all ways (i.e. physically, mentally, emotionally, socially, spiritually, etc.).