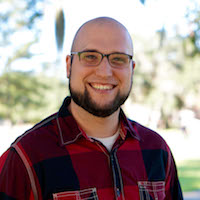 Justin Hall - Life Coach
Education: Associate in Art in General Studies, Bachelor of Science in Family and Child Sciences
Time with Coaching Center: One Year
Professional Achievements: Serving as Prevention Specialist to Riversprings Middle School of Wakulla County, Serving as Guest Lecturer for Capital Region CareerSource of Wakulla County, and having a published work of poetry.
Favorite quote: "The best thing about the future is that it comes one day at a time." ~Abraham Lincoln
Favorite place in Tallahassee: It's a tie! Dorothy B. Oven Park is gorgeous! It's also the place I proposed to my wife. And Lake Hall in Maclay Gardens. I mean, the name says it all.
Favorite aspect of coaching: My favorite thing is seeing a student discover their strengths and weaknesses…and allowing those attributes to guide them instead of define them.
Advice to Students: In regards to difficult times in college, I'll let this dialogue from the Lord of the Rings: The Fellowship of the Ring say it for me. "I wish it need not have happened in my time," said Frodo. "So do I," said Gandalf, "and so do all who live to see such times. But that is not for them to decide. All we have to decide is what to do with the time that is given us."
title-inside title-centered
2